Join our Team!
Palace Playland is a great place to work; we have fun in the sun!
If you are a previous employee that has worked for us in past summers and have questions regarding your paychecks, bonus, W-2, or to make a mailing address change, please send us an email:
Positions Available
Palace Playland hires over one hundred fifty (150) employees for the spring and summer months who are ages 16 and older. Our operating schedule runs from Memorial Weekend through Labor Day Weekend. Positions include the following: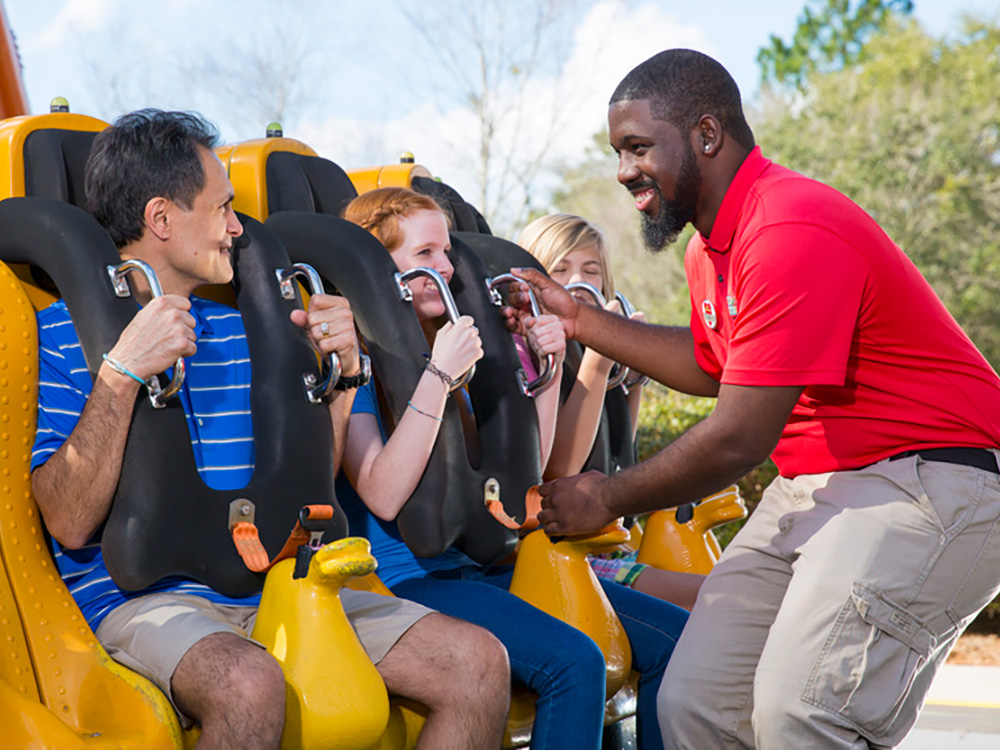 Customer Service
This position requires a friendly and outgoing person. They are responsible for assisting guests with questions and concerns. Other duties include processing Season Pass sales and assist the completion of Custom Service Reports. Excellent cash skills along with communication and people skills are necessary. You must be familiar with the attractions and the surrounding area. Prior Palace Playland experience is preferred.

Ticket Booth
This is the first employees our guests meet and requires a friendly and outgoing person. Excellent cash skills along with communication and people skills are necessary. You must be familiar with the attractions and the surrounding area. Prior Palace Playland experience is preferred.

Ride Operation
Under general supervision, the Ride Operator is responsible for the proper operation of amusement rides and attractions, including assisting guests in loading and unloading of the ride and restraining systems, operating the ride using control panels, communicating safety instructions, and observing the ride while in motion. The Ride Operator will also be enforcing all park policies and safety guidelines in accordance with Palace Playland's Policies and Procedures.

Light Maintenance
A very important position that keeps our facility and grounds looking their best. There is a constant survey of trash pickup, litter and restroom cleanliness, etc. A key role at our park, guests will keep coming back to a spotless park!

Arcade Assistant
This position is responsible for keeping the games in the arcade operational, clean and assisting guests when needed. This is a loud and fast-paced atmosphere where you must wear a smile! Arcade Redemption ~ Help our guests with their purchases using tickets/coupons. Friendly and team-oriented a necessity, Math, communication, people skills.

Amusement Park Mechanic
Involves set up and tear down of amusement rides. Use of various tools for basic mechanical processes. Possibility of welding, electrical or hydraulic works — depending upon experience level. Heavy lifting may be required, use of ladders and climbing to heights of over 50 feet are required. Crawling under structures into a relatively small and possibly enclosed area also required.
We work on a set schedule from Memorial Day Weekend through Labor Day that allows you to plan your summer's activities. Your scheduled work days and your days off remain the same throughout the summer season. We rarely close because of weather and therefore expect all scheduled employees to be present and punctual.
Extended Time Off ~ we will work with you, however, you must provide written notice two weeks in advance and have it approved by our personnel director. This is extremely important for the smooth operation of the park, please be responsible. Keep in mind time off may affect your Bonus.
Conforming to our grooming policy is a requirement for employment. Your portrayal of our uniform is important to the image we are looking to create.
For Females, some of our grooming policies are:
Moderate makeup and jewelry.
Skirts and shorts must be an appropriate length.
For males, some of our grooming policies are:
Beards, mustaches, and sideburns are acceptable provided they are moderate in length and are neatly trimmed.
Small, tasteful earrings are allowed.
Both males and females:
Tattoos must be concealed by clothing.
Hairstyles (a natural color) must be kept neat and clean and if long, secured back out of your eyes while operating a ride.
Body Piercing (other than ears) must be removed or concealed when in uniform.
At Palace Playland you'll have the opportunity to work with our European exchange students and learn a little bit about other parts of the world. As part of your employee package, you can earn free unlimited ride passes to the park, purchase discount ride tickets and merchandise, earn bonus dollars for your excellent performance, and be eligible to receive free passes to other amusement parks. If you're not here, you're missing all the FUN!
Applications are available by: