Palace Playland is a five-acre family-oriented amusement park featuring over 28 rides and attractions. Our 24,000 square foot arcade is one of the largest in New England, containing more than 250 games and attractions, ranging from Skeeball & Fortune Tellers to the latest in coupon skill games and coin-operated video.
Palace Playland is located on the beach at Old Orchard Beach. This beachfront location allows visitors to enjoy Palace Playland's rides and attractions, as well as midway games of skill, great food, gift shops, and much more!
During Peak Season, the rides open at 11:00 am on Saturday and Sunday and noon on weekdays. There is no set closing time at Palace Playland — our closing time depends strictly on weather and attendance. Typically, during peak season the park and arcade are open until 10 pm or later. We also have a spectacular FIREWORKS display every Thursday night at 9:45 pm, plus a special holiday show on July 4th. See our Park Hours page for our complete Operating Schedule.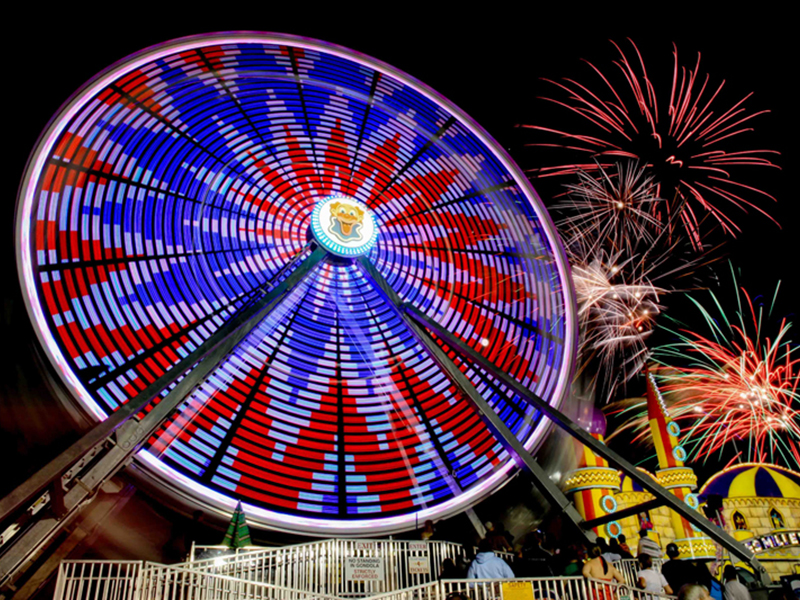 Guest Code of Conduct:
Our family-oriented atmosphere is something we pride ourselves in, and therefore we institute a few park policies that we urge our guests to follow in order to maintain the family and friends atmosphere we work so hard to provide everyone.
Violating our park policies could lead to removal from the premises without refund.
Guest Safety:
Safety is our number one priority. All ride rules and safety regulations must be followed at all times. No exceptions will be made to height minimums or maximums. Please walk at all times, no skateboards, roller blades, roller skates or bicycles are allowed on park grounds. Do not sit, stand or place children on top of fences, railings or shelving at any time in any area of the park or Arcade. Guests with certain body proportions or of certain heights or weights may not be able to make use of certain rides if the safety restraints do not function as designed.
We expect our guests to obey all posted signage at rides, inside the Arcade, and throughout the premises. Guests who do not follow all posted rules or verbal warnings from staff may be removed from the park without refund.
Dress Code:
In our beachfront access, we understand guests enter the park directly from the beach. If this applies to your time here at Palace Playland we ask that you cover bathing suits with appropriate clothing and footwear while riding the rides and entering the Arcade.
Conduct:
Help us maintain our family friendly atmosphere by refraining from profanity, skipping others in line, non-observance of ride rules and regulations and generally offensive behavior and language towards other guests and Palace Playland Staff. Guests who display any of these attributes will be asked to leave the premises without refund.
Loose Articles of Clothing:
The following rides do not permit loose articles of clothing or personal attire due to the safety nature of the ride:
Sea Viper
Adrenalin
Powersurge
Riptide
These items of any kind (including, but not limited to: handbags, backpacks, cell phones, wallets, keys) may not be permitted when loading into the seating area of these rides.
Photography:
By entering the park grounds and Arcade, Palace Playland is granted the right to video, photograph, film, and record for any reason without payment or consideration. Personal use of guest's photography and video is allowed only, no commercial application without prior consent from Palace Playland. Any use or reproduction for commercial purposes without consent is strictly prohibited. Palace Playland reserves the right to refuse to allow photography of any kind as necessary. The use of drones and other commercial devices are not allowed on park premises at any time. No cameras, cell phones, smartphones, go-pro style equipment is allowed on any ride in the park at any time.
Weather:
During the event of known possible rain and/or thunderstorms, Palace Playland will determine whether we will open at the last possible moment, in the event that the storm passes and we are able to operate at our normally scheduled time. Should a rain and/or thunderstorm occur during regularly scheduled operational hours, we may temporarily close all or some of our rides to wait out the passing storm. Should we be able to re-open our rides with weather has passed, we will do so. If the weather should affect the operations of our schedule, we employ a NO REFUNDS policy for all ticket products, Day Passes, Two Day Passes, and Season Passes. All complaints should be directed to the Info Ticket Window, where a complaint form can be completed by the guest.
Upgrades: 
All ticket upgrades must be completed on the original date of purchase. No exceptions.